100% Pure Moringa Oil 2 oz
Regular price
$27.99 USD
Sale price
$19.99 USD
Unit price
per
Sale
Sold out
✅ HIGH QUALITY MORINGA ESSENTIAL OIL. 100% pure cold-pressed moringa oil and plant-based ingredients providing wonderful skin care benefits for all skin types.
✅ ANTI-AGING PROPERTIES: Moringa oil rejuvenates dull, tired and aging skin. Moringa oil helps improve the appearance of wrinkles and prevents sagging of facial muscles.
✅ LIGHTWEIGHT & EASILY ABSORBED. Will not clog pores, evens skin tone, soothes redness and damage. Soothes inflammation.
✅ HYDRATE & BRIGHTEN. Nourishes dry skin, leaving it soft, supple, and well nourished. Moringa extract is essentially an herbal face food!
✅ VEGAN. All natural 100% Pure USDA Moringa oil. Paraben free, sulfate free and ethically sourced from Gambia ANTI-AGING FOR A YOUTHFUL LOOK: Packed with nutrients and antioxidants that slow the aging process down, moringa oil has strong anti-aging properties that help improve wrinkles, support prevention of facial skin sagging and naturally fight free radical damage - effectively providing you with soft smooth skin and a beautiful youthful look. Boasting antiseptic and anti-inflammatory properties as well, it can also help cure minor skin cuts, rashes or burns.
✅ REJUVENATE YOUR SKIN NATURALLY: Hydration is the key to improving skin texture; our organic moringa seed oil deeply moisturizes your skin and naturally helps rejuvenation of dull, tired skin by fighting skin fatigue and its oil secretion. It effectively battles the ill effects of pollution on your skin by unclogging your pores and purifying it and helps remove black heads and spots for your skin to naturally glow and look flawless.
✅ SUPPORTS HEALTHY SCALP & HAIR: Applicable to skin as massage oil, our pure moringa oil also supports scalp and hair health with its antimicrobial and moisturizing properties making it a perfect hair conditioner. By gently massaging it onto your scalp and roots, you can naturally and effectively battle dandruff and dry skin. Regular use of our moringa oil rejuvenates your hair from within by delivering vitamins and minerals to hair follicles which help treat split ends and strengthen it.
✅ RISK FREE PURCHASE: It's highly unlikely you will not see results with our 100% USDA Organic Certified Pure Moringa Oil. However, if that does happen, rest assured, because we are so confident in the quality of our moringa product that we offer you a LIFETIME Money Back Guarantee of Total Satisfaction. Try out your best secret weapon for beautiful skin and hair today with peace of mind!
Share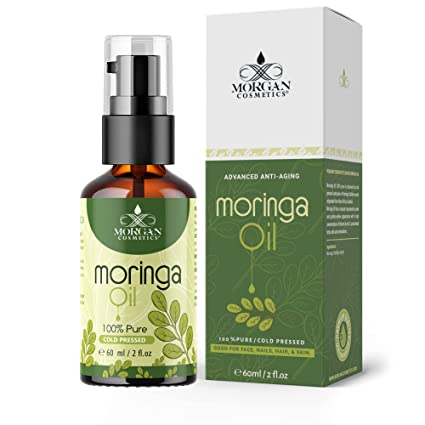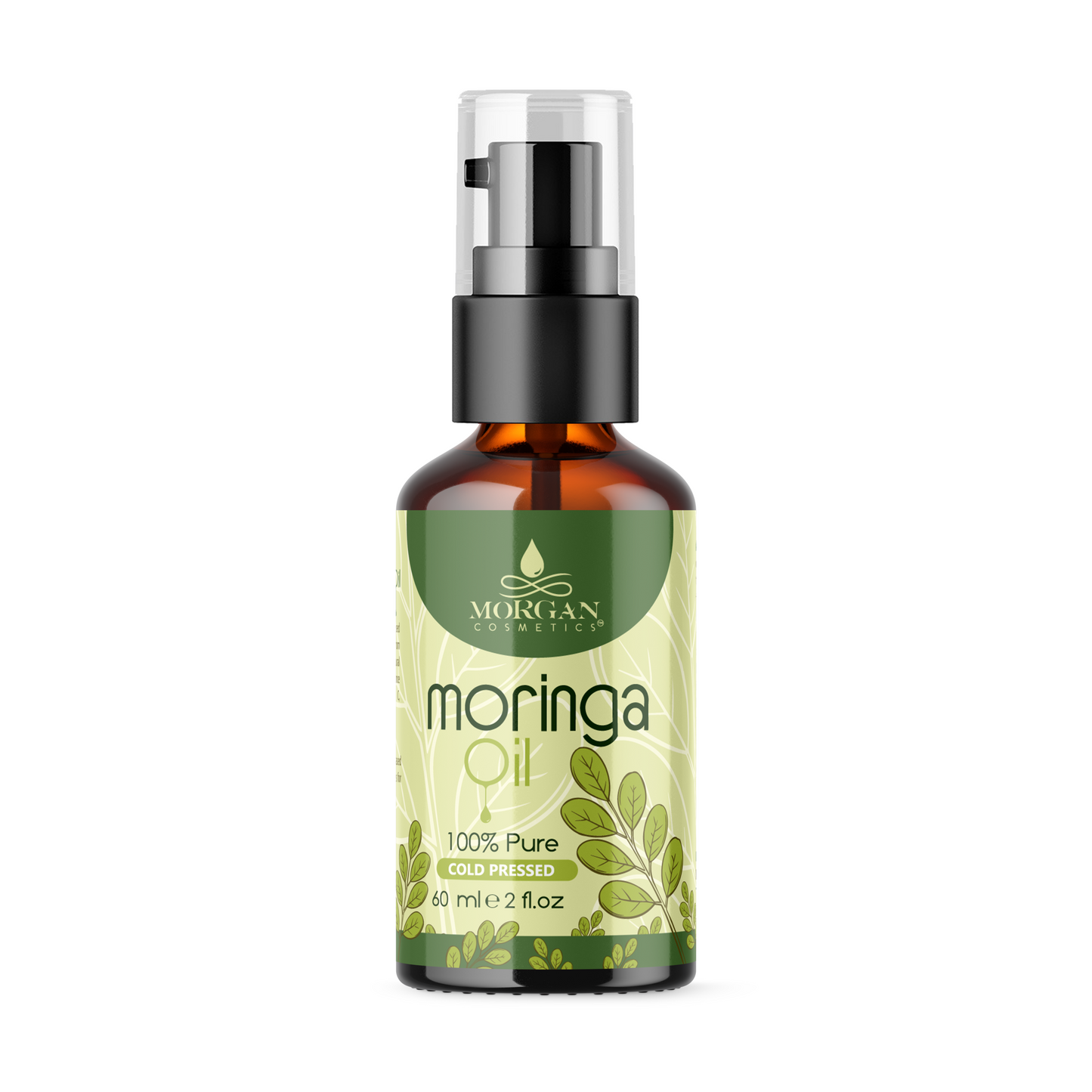 good hand treatment
Both the Rosehips and Moringa Oils are thick and pure. I didn't notice a scent from either one which, to me, is a plus. I got them specifically to use on my hands, especially the backs, which is the "tell" of a woman's age. Happily, I've also been using them on my dinosaur skin elbows with good results.
I've been using just a drop or two in the morning and then again before bed. The oil, though thick, absorbs quickly.
Great for face massage, skin health benefits
I recently was researching about Moringa oil and it's benefits. Apparently, moringa oil has antibacterial and antimicrobial properties which could be useful in preventing breaks outs. It can soothe inflammation from healing blemishes, scrapes and sunburns as well. It helps reduce the appearance of aging by reducing and preventing sun spots. It also really hydrates your skin from my experience.
I really love using this oil with all of my face massagers. It's super relaxing. It makes your skin so soft and plump once it's absorbed into your skin. It helped me reduce some redness on my cheeks. It also made my under eyes look more youthful and smooth. This is one of my new facial oils!
Excellent moringa oil!
I've been using moringa powder for years and swear by it for a variety of purposes, but I had yet to try the oil out. I'm quite impressed with this oil and how well it works on my skin!
This moringa oil is very light in color, almost clear, making it an excellent day oil on my face. It's a lightweight oil, and almost a dry oil- it soaks right into my skin and leaves it feeling silky soft! It has a barely discernable scent- slightly herbal, and the scent dissipates quickly.
I have a terrible habit of forgetting to use dish gloves when I wash dishes, and I lack an automatic dishwasher- my hands were perpetually dry and itchy, but since using this oil they look and feel so much better! I only need three drops of this oil for my hands, it absorbs very quickly, and doesn't leave a residue on things that I touch once it's soaked in. It's not quite as heavy as the marula oil I use on my hands at night, and I really like how it soothes my skin.
As others have noted, it does not come in a pump, but rather a dropper. I prefer a dropper for more precice measurements and applications- pumps often give me more than I need for smaller areas.
I'm very glad to have tried out this moringa oil, and will be using it in homemade body butters for deep skin conditioning and protection!
Overall I'm very happy with this oil and would recommend!
Good value for organic moringa oil
This is not the highest quality moringa oil I've used, but it's not the most expensive either. It's a very fresh and nice oil, perhaps refined more than some. It has a very mild scent of its own, nothing added. It's a fabulous non-greasy oil for face as well as hair. I always use it blended with other carrier oils and add my own essential oils for fragrance. I use in a facial serum and hair oil I sell and everyone raves about the results.
Only takes a wee little bit
I know about Moringa being a nutritional powerhouse and also about its famous seeds, but I've never encountered Moringa oil before. So I tried it. I must say, it goes on with such a smooth finish and feels so good on my old dry skin that I'll probably buy more when this is gone. It will take a while to use it, however, because it really does take only a small amount to get a lot of coverage.
I was surprised that this, being an oil, soaked into my skin the way it did. Most oils leave a bit of a slick on the surface, but this just got sucked right in. I'd expect that from a lotion but not from an oil. I haven't been using this long enough to know if all the claims made for Moringa oil are true, but I put some on two places where I'd sprayed freezing spray on iffy-looking growths to kill them and overshot the mark and blistered my skin. The next morning, the bad places looked a whole lot better than they did before, and that was after just one application. So I really do like this skin oil.